Ofsted 2013 …..
This is a good school
From their individual starting points, pupils achieve well and make good progress. By the time they leave Year 6, they reach standards that are generally above average in reading, writing and mathematics.
Teaching is good. Teachers expect pupils to do well and plan imaginative activities that interest pupils well and, therefore, pupils are extremely motivated.
Pupils understand how to keep themselves safe and act responsibly around school. They are confident that they are safe in school and that the adults take good care of them.
Pupils thoroughly enjoy their school experiences in the happy and welcoming environment. They take great pride in their work and their enthusiasm to work hard is reflected in their above average attendance.
Pupils behave very well and show great care and tolerance towards one another. Their good behaviour is effectively supported by their good spiritual, moral, social and cultural development.
The headteacher's ambitious and very clear view of how successful the school can be is shared by staff and the governing body. As a result, the school is successful in its drive to constantly improve. Decisive and concerted action has been taken to improve the quality of teaching.
Governors provide a good balance of support and challenge for the school.
The school benefits from working with external partnerships. These have made an important contribution to staff's continuing professional development.
To read the full report please click here
Click here to access the OFSTED website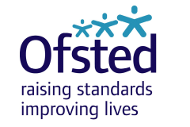 SIAS Inspection 2012 …..
"Children enjoy this school, and parents are proud for their children to attend."
"A caring and family atmosphere pervades through every aspect of Husthwaite's work as a school, impacting positively on children, staff and the wider community."
"Staff care passionately about the children, this being very evident in discussions within classes and in collective worship."
"The school's self-assessment is extremely accurate, with leaders having targeted future developments, including staff visits to other schools to share practice and ideas."